1st of Slate, 125.
We seven dwarf musicians turned settlers have been working nonstop. We first arrived in the Tower of Escorts mountain region on the 15th of Granite. This forested area between a mountain range and a brook houses our humble Lancescour, outpost of The Maroon Helms.
Our expedition leader Olin Oilspiraled assigned us to jobs and for the most part we've stuck to them. Sometimes it feels like he doesn't trust as as much as he did before; I suspect he just can't remember who he's told what. He's an old dwarf, born all the way back in 83. His pale taupe hair gets a little more gray each day. He keeps his beard neatly in double-braids and ties his long hair back in a pony-tail. Olin seems to be a bit addle-brained. He frequently forgets things and gets easily distracted.
My name is Alral Amusewires. I've spent most of my life writing poems and playing drums; The past two weeks, I've cut down tree after tree. The work satisfies me though. If I'm not swinging my copper battle-axe at a tree, I'm remembering the last time I did. It frightens the area dingos when the trees fall, and that gives me a laugh.
After scouting the area, Olin pointed to the side of the mountain hidden behind some trees, "That will be the entrance to the fortress Lancescour!" Kib Atticgrove and Morul Painteddie started digging immediately. There hardest work as surely been their's. Morul took to it and declared himself. It may help that he spends so much time with Kib. She is certainly the most charming and beloved of our crew.
Olin, Bomrek, and Avuz gathered all edible plants from an area near the entrance. Once they had that cleared, we have started piling up all the wood that I've chopped from surrounding trees. Zuntir Sidepages has been checking the area swamps and water hole for fish and has managed to find some, though it did take a while.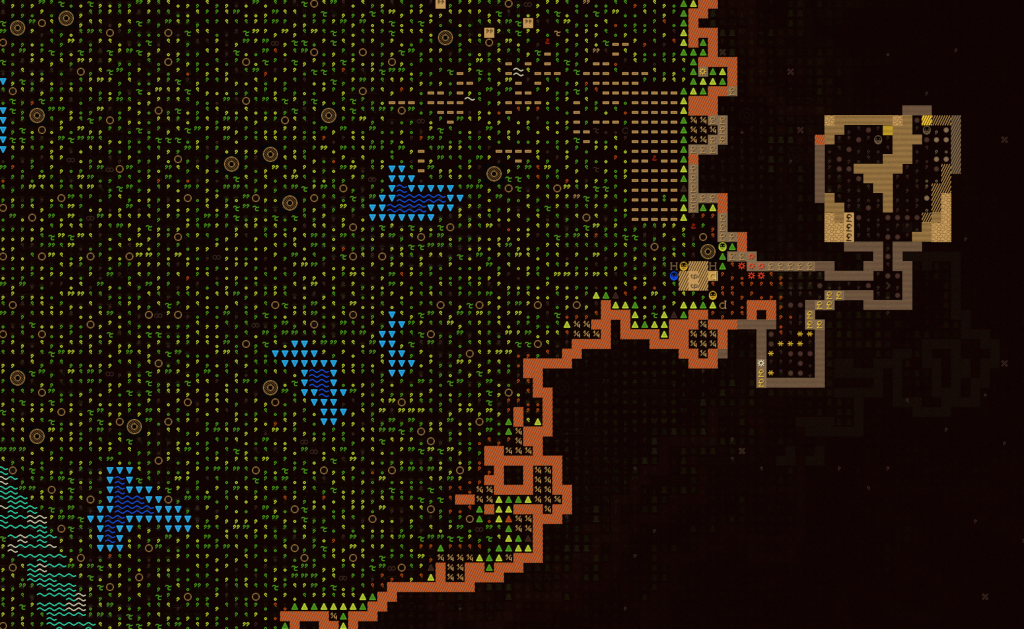 With the first strike of the pick, Kib found violet spessartine, a pretty gemstone with a deep violet-pink color. Bombrek Mastercanyon looked up from picking cranberries to take a look. He nodded approving, thinking of how he may make jewelry with it in the future. Near the entrance, Kib and Morul carved out a room destined to be our trade depot. In this room, they discovered native gold and clear zircon. They dug a narrow tunnel past the depot room and have started work on a large room for general storage. The mountain side consists largely of granite and gabbro stone throughout.
Our little community make progress. I certainly look to getting out of the rain and having someplace to gather besides around the wagon. It's still fully loaded with the supplies we brought, waiting on that storage room to be completed. The two horses that pulled the wagon quietly wander about the forest. Four stray animals adopted us along the journey: two cats and two dogs. Once we are able to move inside and rest, I may claim one of the dogs.
 - Ilral Amusewires